**Don't miss part one

and the one where I was supposed to post part three.**
I was surprised by how warm the night was as I walked with my new best friend, the Life Flight Pilot, out of the hospital doors.
Maybe it was just warm because the hospital had been so cold. Either way it was almost
like a warm blanket wrapping around me, letting me have a smidgen of comfort as I walked away from my unconscious baby.
I should have just walked backwards, it would have been more efficient than what I had done.
I would walk a few feet and then turn around. I wanted to make sure the medical crew was, in fact, keeping their promise, to bring my baby out here. To meet me at the Helipad to load that very, extremely precious cargo up and get him to a place he could get the help he needed.
My new BFF could tell I was nervous, he kept trying to keep the chatting between us light, yet minimal because he knew I wasn't hearing a word he said.
We reached the Helicopter, I was offended that it was turned off. I had seen movies, you could run to the door while the propeller was still in motion. You just had to duck. This was an emergency after all, why would they take the time to turn this apparatus on and off? I was willing to duck.
I really hated real life that night, why couldn't it be like the Hollywood movies? Why wasn't there more urgency to help my son? My thoughts went black as I thought maybe he was too far gone.
The pilot helped me stumble into the cockpit. I had never been so clumsy in my life. I had also never wanted to ride in the backseat so much in my life either. I didn't care how "car sick" I got in the back seat, that's where my baby was.
The pilot had instructed me to turn off my cell phone (already done) and to buckle up. He seemed annoyed at this point, I was staring at the group of people surrounding the gurney my baby was on and not paying attention to a single word this man said.
That is until he told me we had to hurry.
Apparently in another life I was a helicopter expert. I snapped that harness on like it was
second nature and put on the sweet little helmet/microphone set they had for me. I wanted to get this show on the road.
Little Bean's crew had just reached the helicopter and they were loading him in. For having such big windows, I sure had a crappy view of the process. A helicopter has one hell of a blind spot.
He wasn't making a sound. My heart was shattered and yet elated that he wasn't screaming in pain.
I wanted this night, this back and forth of emotions and conflicting desires to end. I was done and we were only about 30 minutes into this journey.
The flight teams and trauma Doctors loaded up my little mummy baby. He looked so warm and peaceful.
Then I saw it again, that damn blood pouring out of his ear, it had soaked through the cotton, gauze and every other item they had put against his little head to keep the blood from doing what it was now currently doing…
Pooling around his head.
I turned to face forward as the tears streamed down my face. The doctors waved goodbye as they ran back to the ER. Sure, now they were running.
I could't blame them, I wanted to run away too.
Not from my son, but from this horrible event, this night, this tragedy, this hurt.
The pilot made the pre-flight checks and told me once more that if I needed to speak to someone I would need to yell so the microphone would work.
I didn't have words, why would I need to speak to anyone?
Then the propeller started, the voices in my ears spoke some foreign pilot language, more pre-flight checks were made and the pilot maneuvered our craft into the sky.
If I hadn't already reached my maximum terrified state I would have crapped my pants.
Helicopters are terrifying.
I was informed that it would take approximately 15 minutes for us to reach the hospital. Normally it would take an hour to an hour and a half to drive to the hospital so 15 minutes was pretty good timing.
Or so I hoped.
For the first five minutes I stayed turned awkwardly in my seat trying to see my baby and I nervously chatted/yelled into the microphone about who knows what.
I do know I informed everyone when we were flying over my mother-in-laws house.
That was right before the pilot told me that I would need to be quiet so he could hear air traffic, since this part of the flight could get tricky. That was his nice way of telling me to shut the crap up and stop annoying him.
I apologized and of course kept chatting about how I get chatty when I'm nervous. One of the nurses behind me said she does the same thing, this caused the pilot to joke with her saying she must be nervous all the time.
I said my husband would have said the same thing.
That made me miss my Soldier. I missed him really bad.
Luckily or unluckily, not sure which, I wasn't able to miss him for long.
My thoughts were interrupted by yells coming from the nurses.
I couldn't understand anything, all I could hear were yells and then I saw the crew getting
up from their seats and unbuckle my son. I saw the monitors dipping and I thought my baby was needing CPR.
I turned around, tears streaming down my face, I couldn't watch. I couldn't help. All I could do was sit there and wonder what was going on.
A few excruciating seconds later, chatty nurse told me that, that was the most she had ever seen a baby throw up. She told me we were feeding him well and she would be avoiding a few foods for a while.
Turns out Little Bean had thrown up. Most had been projected out of him like a water cannon but since he was strapped down and unconscious some had stayed in his little throat. He needed to be turned and suctioned out.
I have never been so grateful for vomit in my life. I have also never been so grateful for a cleaning crew in my life either. He did a number on the inside of that helicopter and down the shirt of the nurse.
He also needed some oxygen. The high altitude was hard on him and the vomit hadn't helped. They put on the tiniest little oxygen mask and Little Bean, who normally fights everything, had nothing to say about it. He didn't protest or even try to push it away.
The fight in him was slowly fading away.
Finally after 15 minutes, perhaps the longest 15 minutes of my life, I saw the hospital roof get closer and closer to me. It was the most beautiful, hopeful sight I had ever seen through hazy tear filled eyes.
Once we landed, I couldn't tear my harness off fast enough. Part of it was due to the fact that the pilot put his hand on mine and told me I needed to wait until he shut the engine down.
It was cute how he thought this was a time that he could teach me the patience I had never learned before.
I fiddled with my harness, getting it off very quietly, not letting the man next to me know it was off.
Then I realized, I had no idea how to get out of this prison of a helicopter.
I felt like a trapped animal, we needed to get in the hospital. These jokers were killing me with their "safety" precautions!!
Finally the propeller stopped and the team, that had been waiting at the door a few yards away, came running to us. I could get on board with this crew – they knew what a hustle was.
As they approached they were warned that my son had thrown up and to watch out. They laughed a bit, they had seen their fair share of vomit, nothing was a surprise to them.
That is until they opened the door and vomit spilled out all over them and the helipad. I heard more than one exclaim, "That all came from him?!"
I couldn't help but be a little proud. I was also pleased that now maybe people would believe me when I told them my baby could throw up more than my grown man husband. He is impressive that way.
They unloaded Little Bean and finally someone helped me escape from my prison. I was about to beat on the window and scream, but I didn't think it would be appreciated, nor did I think they would allow me to go with my son after an incident such as that.
Perhaps I did learn patience that night.
I leaned down to kiss my sweet boy, puke face, neck collar and all. Boy did he stink. I didn't care. I was so happy to be next to him again.
They Primary Children's team lead the way, the Life Flight crew and I followed behind.
One doorway, an elevator ride and a short walk down a hallway and there we were in a new trauma room. The staff of Primary's worked quickly and got the report from the Life Flight crew. I sat down next to my son, tears streaming down my face, it was all so real again. He was screaming now, and covered in puke.
A nurse came over to him to hook up machines and check his vitals. She said she would ask
the Doctor if we could change his C-collar to one that didn't have throw up all over it and in it.
Somewhere in the chaos my mom and step-dad showed up. I was so happy to see familiar faces. I was thrilled not to be the only one there and I was so happy I didn't have to be brave anymore. That pilot couldn't keep me from being in this room!
A few minutes later my greenish-grey faced husband showed up bearing one of the worlds greatest treasures.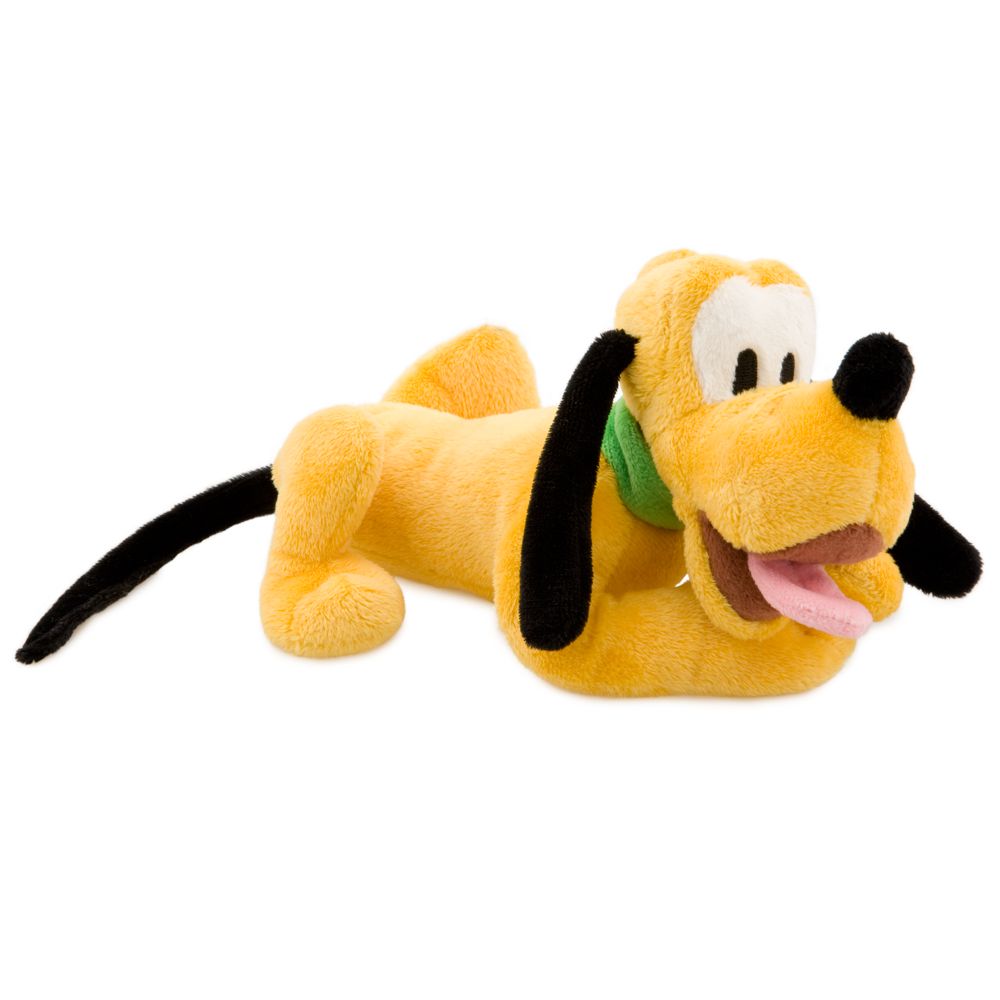 Not one, but two Pluto puppy's. Little Bean was so happy to see them.
I was so happy to see them.
The entire staff was so happy to see those darn Pluto's and they didn't even know why.
Soldier forgot his wallet, phone and any other type of personal item but he did not forget those Pluto's! What a hero he is to our Little Bean, and our entire family. I love that man!
**Also I am so very grateful to Blushie and Nurse Sister for handling our business while we
were at the hospital. They made arrangements for meals and updated those that called Soldier's phone (Blushie some how got the privileged of getting Soldier's phone handed to her to deal with). These two saved us that night from all the other aspects of our lives we couldn't handle right then and there. Blushie also let Little Man sleep over at her house for two nights and handled his extreme sadness when he didn't have his Puppy to sleep with! We are also the proud new owners of our very own "Scoutch" thanks to Blushie's little Pizza Sauce 😉 **
The c-collar was changed and Little Bean was wiped down. He smelled better but his mood was not any better.
We couldn't hold him, he wanted us to. He couldn't get Pluto's ear in his finger's and up to his mouth over the c-collar and with his disoriented feeling. He was frustrated, tired and after throwing up the contents of his stomach, hungry.
There was nothing we could do for him. We sat next to him trying to soothe him, comfort him and help him get Pluto's ear in his fist and thumb in his mouth.
It was devastating watching our little boy be so out of sorts and in such pain.
We asked if there was anything they could do for his pain.
Nope, they needed him to be as conscious as could be. They needed to see if he made any drastic changes or if he was getting worse.
The worst feeling, I believe, as a parent, is not being able to do anything. We couldn't hold him, fix him, take away his pain, soothe him, comfort him, feed him, or even talk much to him.
The talking and the light seemed to aggravate him. This was probably because he had, what we can imagine being, the worst headache of his, or most people's for that matter, life.
It was horrible watching him writhe around in pain and discomfort. He hated the c-collar, he hated laying down, he hated that we wouldn't hold him. He looked at us, as if to say, "why?! Please hold me, make this go away!"
After a while I couldn't take it. I was going to throw up and perhaps go postal on the entire hospital if something didn't happen, and happen soon!
I went for a walk with my mom. We walked the hallway for a bit, trying not to get lost. I sobbed, telling her, I'm not that kind of mom or woman. I can't have a dead baby, I can't have a baby that is a vegetable. SOMEONE TAKE THIS NIGHT AWAY!!!
As we rounded the third corner we saw the trauma team going into his room and we rushed back in.
They needed more CT scan's. There was talk of two fractures, one on each side of the skull and meeting in the back. There was the possibility it was just one fracture going the entire skull…
Temporal, frontal, hematoma, middle ear, brain stem, bleeding, bone fragments, carotid artery, vessel groups, vision, stroke, hearing, brain damage, coma….
The words went on and on. None of them fitting together or making sense to me. I was in a world of my own. Terrified, not wanting to move or speak, not wanting to breathe.
They took my sweet boy away, to do the necessary testing he required.
Soldier broke down at this point. All his strength and courage and silent tears came to a head.
"I could have changed it. I could have done something different. It's my fault. What if I bumped him. What if I didn't pick him up?…"
He was hurting. We were a room full of really hurt people, with no answers, no relief, just hurt, grief and fear.
They brought Little Bean back to us. We were elated to see him and begged to hold him. The doctor did another check of his body and said he would send a nurse in to help us.
There were so many wires and cords that it looked almost impossible to us to be able to hold our sweet boy.
Somehow that nurse made it happen.
At first Little Bean was irritable and uncomfortable. He didn't want to be touched, yet he knew he wanted to be held. Finally he settle down into Soldiers arms and was calm.
God must have heard our pleas, he must have known that not only could we not handle our little boy in pain but he could no longer handle it either. He sent his comfort, his angels and his grace to us that very minute.
Little Bean looked at us through his and our tears. He tried one last time to get Pluto and
his thumb to his mouth and he settled down.
To be extraordinarily honest I don't remember if this is exactly the order of events, nor do I remember much after this. I think, that to, is by the grace of God.
I know it was a hellish night, one that I would not wish on even my ex-husband. I vaguely remember even saying that on one of the walks in the halls.
I know they took another CT scan, Little bean's third. They may have even taken a fourth. I know they were worried about his carotid artery and although they did not say it, the feeling and thought was there, that this little boy may not live, and if he does he may be nothing more than a vegetable.
Nurse sister stayed on the phone with us most the night. My mom had wisely advised her to wait to come up. She had worked the graveyard shift and did not have the proper sleep needed to be able to make the 6+ hour drive in the middle of the night.
She was there to tell us the truth, not to sugar coat a thing. It was nice to be prepared but after a while I had to tell my mom to stop telling me what she was saying.
I didn't need to be prepared for my son to die. That wasn't going to happen, it just couldn't, I wouldn't let it. I was clearly losing it at that point.
I know that a few hours after being there my mom and her husband left. Which was terrifying and heartbreaking, but necessary. They both had work in the morning and soldier and I needed to be the parents. We needed to be the strong ones and help each other as well as our son.
It was rough once they had. While there my step-dad had been commenting about a
Facebook rant he was making on another issue and he told us just to buy a room at this hospital. We have been here so much anyway and Little Bean isn't even into dirt bikes and hunting yet. We were able to laugh and have a whole new level of fear with him there. Without him there it was quiet and reality kept setting in more and more.
My mom had been a comfort to me and had helped Soldier and I stay strong while in the room with Little Bean. We wanted him to see us happy and hopeful, not see crying or upset. It would agitate him and we knew he could sense our fear. He needed happy and hope to get through this and we needed to provide that foundation for him.
As my mom and step-dad were leaving Soldier's brother showed up. We had no idea he was coming and he had just found his way. It was so amazing to see that love and support that he had for us. Especially on a work night after midnight. He stayed for a while before we told him to go get some sleep and be with his family. I'm sure he would have stayed longer had we let him.
Shortly after, we were lead to a room on the Neurotrauma Pediatric Intensive Care Unit. We were introduced to our nurses and they poked and prodded Little Bean a little more. He was still not allowed to eat and he made sure we knew just how angry he was about this.
We were told he wasn't out of the woods yet. The possibility of stroke, disabilities, and other long term problems or even death were still there. We would have to wait and see.
We would wait and wait and wait all night long. We would wait to see how he acted, we would wait to see what his tests said, we would wait to see how our lives would be changed and just how much.
The the three of us settled in for what would be one of the longest, and most hard nights
we would encounter to this date.
We would wait.